The new EU IVD Regulation entered into force in May 2017. It has a great impact on the IVD manufacturers and the manufacturers of currently approved in vitro diagnostic medical devices will have a transition time up to 26 May 2022 to meet the requirements of the IVDR.
Here are some key changes:
Extension of IVD regulations' scopes (genetic tests, companion diagnostics, software)
Classification based on risk (4 classes: A, B, C and D);
Involvement of  Notified Bodies for the CE marking of IVD product will increase drastically. As shown in the figure below, under the IVD directive, 10 – 20% only of the IVDs required a NB implication compared to 90%  of the IVDs under the IVDR. The workload of the NBs will therefore rise while only 5 of them are designated under IVDR out of 22 under IVDD, creating a problematic bottle neck for the IVD legal manufacturers and ultimately the patients.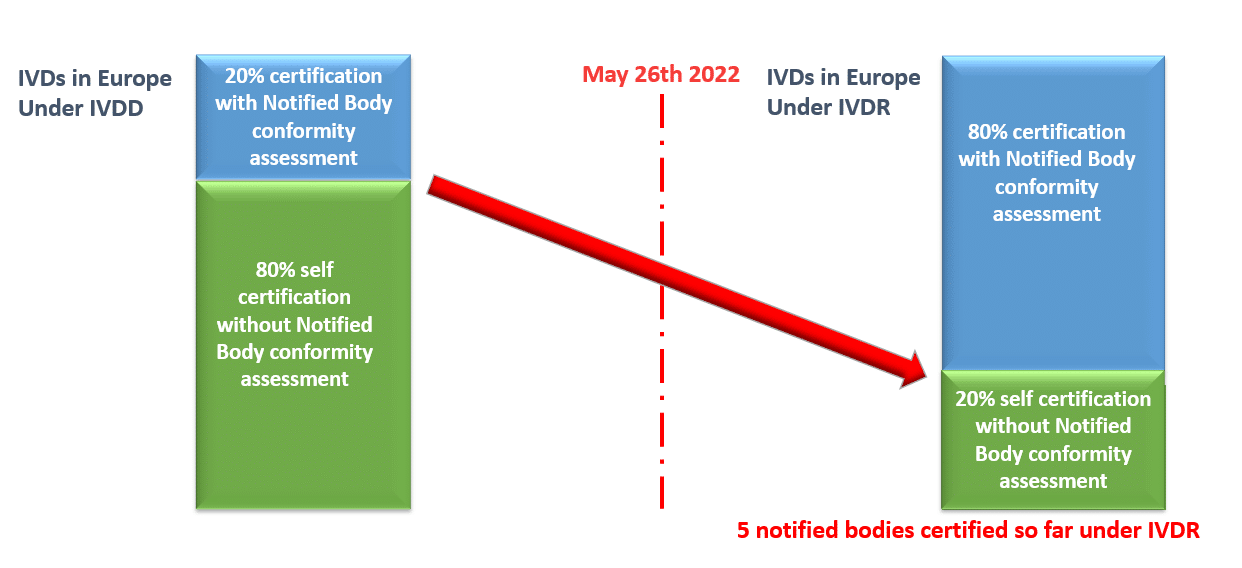 General Safety and Performance Requirements of the IVDR are strongly reinforced compared to the Essential Requirements of the IVDD
Reinforcement of requirements on clinical evidence (scientific validity, analytical performance and clinical performance) resulting on an elaborate performance evaluation report
Setting out the obligations for the different "economic operators"
Assignment of a "person responsible for regulatory compliance" (PRRC)
Identification & traceability Unique Device Identification (UDI)
Introduction of central electronic system for Vigilance and market surveillance EUDAMED
Reinforcement of Notified Bodies powers and responsibilities, possible unannounced factory inspection, and sample checks
There is an European Medical Device Coordination Group (assessment of high-risk products)
Implement EU Reference laboratories (specific hazards and technology assessment) for class D device
An "in vitro diagnostic medical device" (IVD) is a medical device, reagent, instrument or software, which is intended to be used in vitro for the examination of specimens derived from the human body, for diagnostic purposes. These diagnostic tests may provide information concerning a pathological disease or a predisposition to a medical condition or disease, but may also predict treatment response or reactions.
IVD tests may be performed in clinical laboratories, while devices for "near-patient testing" are intended to be carried out by healthcare professionals outside of a laboratory environment. Self-testing devices are another category of IVDs, intended to be used by lay persons.
With healthcare systems driving for greater efficiency and sustainability, IVD tests are providing information necessary to increasingly focus on prevention, early intervention and disease treatment. Consisting of diagnostic tests performed at the hospital or private clinical laboratories, near-patient testing and self-tests, the IVD market is expected to continue to grow at a steady pace within a substantially more stringent international regulatory environment.
Key challenges encompass:
Product qualification/classification
Market clearance route
Safety and Efficacy claims
Risks analysis and risk management plan
Performance evaluation (including clinical utility)
Quality Management System
Market access strategy and value demonstration to payers
VCLS Solutions
Science-based, global product development strategy and planning
Position product and claims
Assist in innovative product classification and development plans
Develop roadmaps towards international market approvals (EU, US, Australasia, South America)
Advise on/conduct regulatory bodies strategic, and product development meetings (Notified Bodies, EU Competent Authorities, FDA)
Tactical operations
Assist with risks analysis and risk management plan
Develop and submit regulatory files (EU CE mark Technical File, US 510k & PMA, De novo Canada, Australasia, South America)
Optimize quality and vigilance systems
Advise on labeling and advertising