Effectively positioning your product for the right indication from early stage of development.
Have you considered the prevalence of your target indication? Have you considered the positioning of your product in the line of treatment? Have you considered the competitors/predicates on the market? These questions should be addressed in the Target Product Profile (TPP) document as early as possible.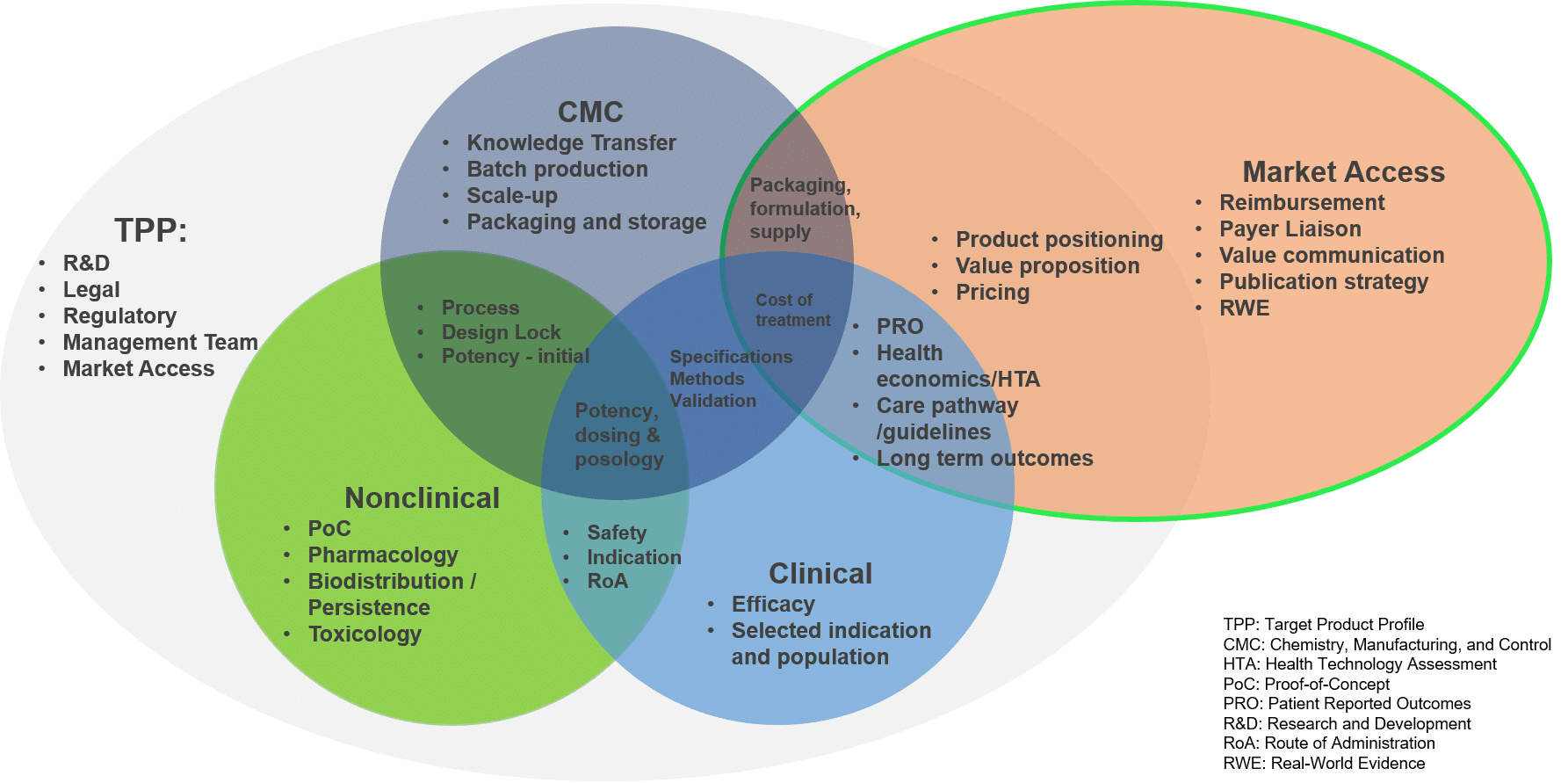 TPP is a living document that will grow alongside your product development. In addition to characterizing your product specificity in regard to Mode-of-Action, Safety and Efficacy, you will benefit from considering at very early stages the best differentiating features and potential economic value of target indication(s) and claims associated to your product. You will definitively increase your chance of success by taking into account at an early stage, via an integrated approach, all aspects of your product development, including but not limited to target population, clinical intended use, significant benefit(s) and long-term outcomes.
The TPP document is a vital tool consolidating all the relevant knowledge and information, pillars of an optimized product development and a successful product launch. At VCLS, we propose an integrated approach and solutions to address all these questions and challenges.
Understanding the Market Potential
VCLS has a strong understanding of HealthTech investors' requirements and has helped hundreds of emerging biopharmaceutical and medical technologies companies build their business case and strategy.
In order to take sound investment decisions, HealthTech companies and their investors need to understand the market potential for their product. This implies understanding the environment in which a product will position itself.
We can help you:
Understand the unmet medical need
Estimate the size of the possible target populations
Understand the competition
Understand the pricing and reimbursement potential
Estimate the revenue potential
Formule the value propositions
Plan your pricing and market access strategy
You may also be interested in Neighborhood, the first regulatory life science innovation center.
Understanding the HTA Evidence Requirements
We have handled 1/4 of all consolidated or non-consolidated EMA/HTA parallel consultations and 1/2 of the Orphan Drugs Parallel Consultations in Europe.
Regulators' and Health Technology Assessment Authorities' requirements are not the same. It is critical to bridge this gap as early as possible during the product development stage to avoid the common "too little too late" outcome for products receiving a marketing authorization and trying to launch without the required evidence to support their value proposition.
We can help you:
Prepare and conduct consolidated or non-consolidated parallel consultations with regulatory and HTA authorities
Prepare and conduct multi-HTA EUnetHTA Consultations
Perform gap analysis of existing versus required evidence
Build an evidence generation roadmap
You may also be interested in our Regulatory Solutions.
Expert Voice
Hear insights from our experts at the World Orphan Drug Congress and Pharma Pricing Market Access Congress:
The World Orphan Drug Congress
Pharma Pricing & Market Access Congress
Planning Health Economic and Outcomes Research (HEOR) Evidence Generation
VCLS outcomes researchers and health economists have collectively supported the integration of clinical, economic and humanistic endpoints into hundreds of clinical trials in Europe and the US.
In order to have the required evidence to obtain favorable HTA recommendations and appropriate pricing and reimbursement conditions, it is necessary to plan HEOR evidence generation alongside the clinical trial program.
We can help you:
Perform gap analysis of available vs required evidence
Plan the evidence generation strategy
Select and integrate clinical, economic and humanistic outcomes research parameters into clinical trials and studies
Build economic models
You may also be interested in our Clinical Expertise.