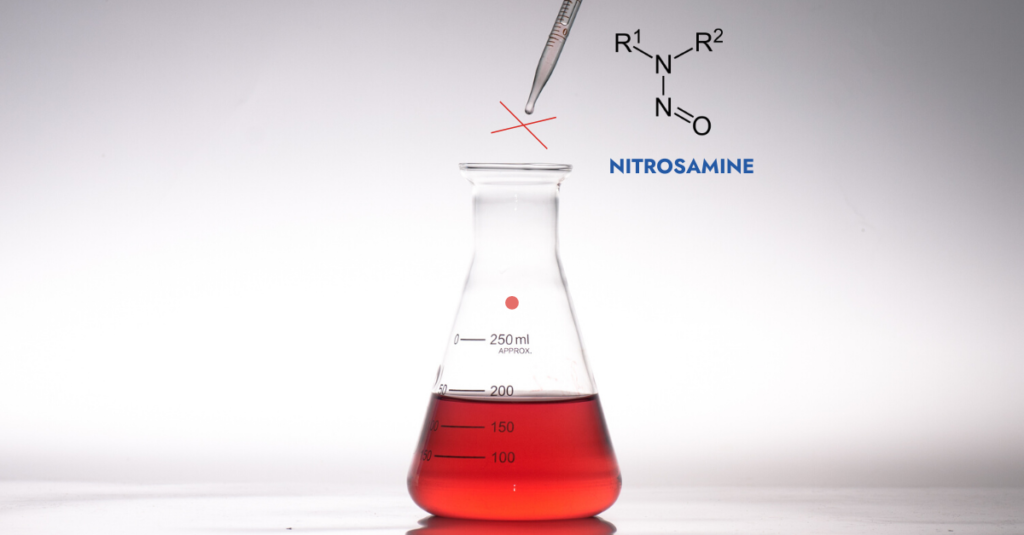 On Friday, 27th March 2020,  the European medicines regulatory network extended the deadline to complete an initial risk evaluation for marketing authorization holders to October 1st, 2020.  Nitrosamine impurities drug contamination is more than a curiosity for scientists responsible for the design, development and manufacture of important pharmaceuticals. Thoughts such as where the nitrosamine impurities originated in the synthesis, the type of analytical methods utilized for their detection or any potential nitrosamine-related impurity in the drug product excipients surely will be been pondered.  Both the European Medical Agency (EMA) and the Food and Drug Administration (FDA) have prepared nitrosamine guidance on avoiding nitrosamines in human medicines for holders of an approved Market Authorisation Application (MAA) or New Drug Application (NDA).  These are two examples of several that have provided guidance.  Here we discuss the nitrosamine impurities concerns and bring awareness for a path forward when considering current regulatory expectations.
In July 2018, both the EMA and FDA announced the recall of medicines which contained the active ingredient valsartan that was manufactured in China.  Valsartan is an angiotensin II receptor blocker (ARB) and is used in the treatment of hypertension.  Being on the market for the past twenty-four years, valsartan has been available as a generic medication for several years. The reason for the recall was based on the manufacturing process containing N-nitrosodimethylamine (NDMA) as a nitrosamine impurity in the drug substance.  Additionally, ranitidine and pioglitazone products have also been reported to contain the nitrosamine impurity contamination.  NMDA, a nitrosamine, has been linked to an increased risk of cancer, as it is viewed as a mutagen.  Therefore, nitrosamine limits have been imposed on pharmaceutical products, food and in drinking water.
In September 2019, EMA advised Marketing companies on steps for avoiding nitrosamines in human medicines.  This first request (EMA/511347/2019) was addressed to Marketing Authorisation Holders (MAHs).  The guidance states that all medicines should be reviewed for possible nitrosamines and "test all products at risks".  Currently, the evaluation of nitrosamines scientific knowledge in medicines continues by EMA and companies will be advised on actions to take if nitrosamines are present in their products.
Additionally, the FDA have taken steps in providing specific analytical testing methods for NDMA in ranitidine drug substance and drug product. Even as solutions to the problem are being offered by the regulatory agencies, future measures will still be required.  For example, as nitrosamine impurities requirements become tighter the sensitivity of analytical tools will have to be optimized to address the specific needs.
Regulatory agencies are now scrutinizing risks for nitrosamines.  Drug substance preparations involving nitrites, nitrates, aromatic amines, secondary or tertiary amines would be high risk for containing nitrosamine impurities.  However, like most impurities in medicines, the overall process from raw material to the final drug product should be evaluated for nitrosamine contamination risk.  For example, nitrosamine impurities may originate from the starting materials, reagents, solvents or excipients.  Contaminations of these processing materials or equipment contamination may also contribute to nitrosamine impurity risks.
With the announcement released by the FDA on April 1st 2020, the FDA is sending letters to all manufacturers of ranitidine to withdraw all prescription and over-the-counter (OTC) ranitidine drugs from the market immediately.
As a life sciences consulting organization, scientists at Voisin Consulting Life Sciences (VCLS) are currently following regulatory agencies requirements for nitrosamines impurity risks.  Through years of experiences in the industry, the 150 VCLS global team members are more than equipped to evaluate nitrosamines risks in approved medicines, at the drug development phases and at the early discovery stages as well.
More information: