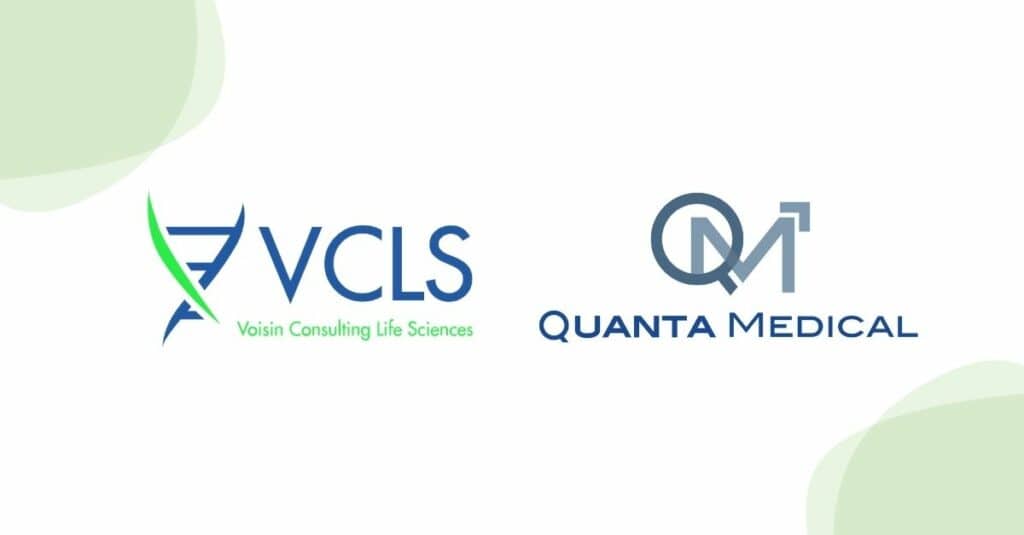 Paris, June 1st, 2021 – Voisin Consulting Life Sciences (VCLS), a leading global HealthTech product development consultancy company, today announced the acquisition of Quanta Medical, a privately-held company focusing on designing, implementing and reporting clinical studies with proprietary digital tools for the healthcare industry.
The transaction brings together two high-quality, innovative, and growing organizations with similar cultures and a shared commitment on high-quality and efficient clinical trial protocol design and execution, from Phase 1 to post-approval studies.
The combination will address the growing market need for de-centralized and hybrid trial solutions with increasing volume of patient data from multiple data sources.
Biopharma, medical device and cosmetic manufacturers of all sizes will benefit from broader service offerings, deeper therapeutic expertise, digital healthcare technology innovation, and functional talent and capabilities.
"This acquisition will reinforce VCLS with a broaden foothold in the clinical operations space. Quanta Medical's experience in protocol design and in running interventional and non-interventional clinical studies with a patient-centric approach, complements our clinical operations capacity. Quanta Medical's expertise in Health Risk Assessment will also be a tremendous addition to VCLS. QData, its Malagasy subsidiary specializing in data management and biostatistics, also offers a suite of robust e-clinical applications. Both participate greatly to VCLS end-to-end solutions for HealthTech developers. We look forward to adding the talented employees of Quanta Medical and QData to our organization," said Emmanuelle Voisin, Founder and CEO of VCLS.

"I am thrilled to be joining with VCLS, a company with similar culture and values. I'm deeply indebted to Quanta Medical and QData outstanding employees who have helped me over the years bring healthcare to patients in a smart and efficient way", said Othar Zourabichvili, Founder & CEO of Quanta Medical and QData. "I am confident that VCLS, as a global leader in regulatory science and clinical operations, is the best organization to carry this expertise forward."
Redoaks (Benoît David) acted as the Sole Financial Advisor to both parties. Redoaks assisted Quanta Medical and Voisin Consulting Life Sciences in preparing and coordinating the process, organizing the due diligence, providing sector and process intelligence, and helping in the negotiation of the transaction key terms.
About VCLS
VCLS is a global product development consultancy firm, which guides Biotechnology, Pharmaceutical and MedTech manufacturers throughout product development and market access. From early-stage to patients, VCLS assists innovators by designing product development strategies that optimize clinical development to drive commercial success.
The firm offers integrated solutions with regulatory development strategy, chemistry formulation, manufacturing scale-up & control services, nonclinical & clinical regulatory development planning, clinical trial operations, safety monitoring, thanks to continuous interactions with regulators and payers. With offices in Cambridge, and Somerville (MA & NJ, USA), London (UK), Paris and Rennes (France), Lausanne (Switzerland), Copenhagen (Denmark) and Bangalore (India). VCLS serves a broad range of developers and investors in Life Sciences.
About Quanta Medical
Founded and managed by Dr. Othar Zourabichvili after having practiced in hospitals as a clinical doctor, Quanta Medical has 35 years of experience in clinical research for the biopharma, medical device, and dermo-cosmetic industry. Quanta Medical has a strong expertise in data management and biostatistics. Through its full subsidiary QData, Quanta Medical is developing the eBox, a suite of proprietary digital applications which are compliant with 21 CFR part 11, ISO 27001 and ISO 9001, GDPR and all applicable regulations for the conduct of clinical studies.