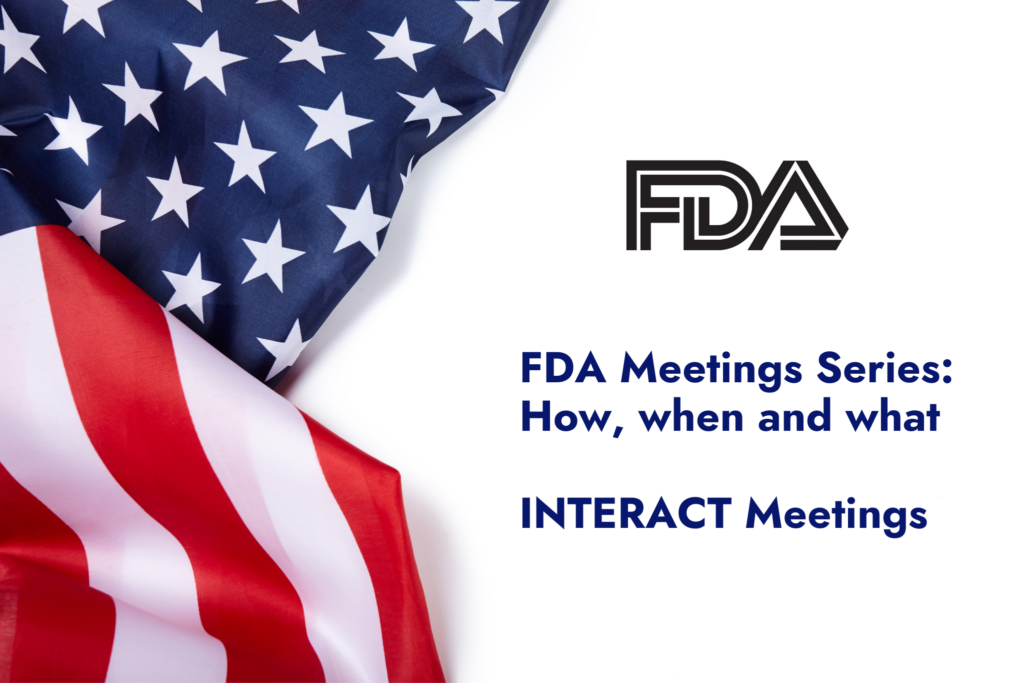 INTERACT Meetings
What:
Initial Targeted Engagement for Regulatory Advice on CBER products (INTERACT) meetings are informal meetings held between sponsors of innovative investigational biological products and the Center for Biological Evaluation and Research (CBER) to obtain non-binding advice from FDA regarding chemistry, manufacturing, and controls (CMC), pharmacology/toxicology, and/or clinical aspects of the development program. An INTERACT meeting is not intended to take the place of a Pre-Investigational New Drug application (Pre-IND) meeting nor is it a prerequisite to requesting a pre-IND meeting. CBER recognizes that the development of innovative investigational products can introduce unique challenges related to unknown safety profiles, complex manufacturing processes, technologies and issues, incorporation of innovative devices and the use of cutting-edge testing methodologies that can benefit from early agency input. The Center for Drug Evaluation and Research (CDER) does not currently have a similar meeting, but this option will become available in fiscal year 2023 when PDUFA VII is reauthorized. Upon reauthorization all INTERACT meetings will become formal PDUFA meetings.  

INTERACT meetings can: 
Assist sponsors conducting early product characterization and preclinical proof-of concept studies

 

Initiate discussions for novel devices

 

Inform sponsors about overall early-phase clinical trial design elements

 

Identify critical issues or deficiencies for sponsors to address during development

 
When: 
INTERACT meetings are for products that have begun the development process but have not yet reached the stage where a pre-IND meeting would be appropriate. Before requesting an INTERACT meeting, a sponsor should have selected a specific investigational product or a biological product-derivation strategy to evaluate in a clinical study.  
How:
Prior to the first meeting planned with FDA a PIND number must be requested. The PIND number should be requested from CBER by email (CBERRIB@fda.hhs.gov) 30 days prior to the planned meeting request submission date. 
Additionally, before requesting an INTERACT meeting a meeting package of no more than 50 pages should be prepared that includes the following information: 
A description of the product and the disease or condition being treated or prevented

 

A summary of information about product development to date and any future development plans, if appropriate

 

A list of questions with a summary for each explaining the need or context. Questions should be grouped by the following topics (Note: questions regarding combination products should be grouped together):

 
Chemistry, Manufacturing, and Controls (CMC)

 

Pharmacology/Toxicology

 

Clinical  

 
A summary of the data to support discussion organized by topic and question

 

A list of all participants, with their titles and affiliations, who will be in attendance from the sponsor's organization including consultants and interpreters

 

Optionally, the sponsor may include suggested dates and times for the meeting including non-availability

 
INTERACT meeting requests should be made to CBER by email (INTERACT-CBER@fda.hhs.gov) and should include a cover letter and the meeting package with the request. The cover letter and email subject line should clearly identify the purpose as a request for an INTERACT meeting and the CBER Office where the request is directed. In the meeting request sponsors should define specific areas of input requested from CBER.  
If an INTERACT meeting is granted, they will generally be scheduled within 21 calendar days of receipt. The meeting will be held via teleconference within 90 calendar days of the request receipt and will usually be 1 hour in duration. CBER will send written responses to the sponsor's questions contained in the meeting package no later than 1 day before the meeting to facilitate the discussion. No additional questions will be accepted. If the sponsor finds the written responses provided by CBER sufficient and does not desire further discussion, they may cancel the meeting.  
During the INTERACT meeting, discussions will focus on and be limited to the initial questions submitted in the meeting package. CBER advice given during INTERACT meetings is informal and non-binding and therefore official meeting minutes will not be issued to the sponsor. Additionally, any meeting minutes prepared and sent to CBER by the sponsor will not be reviewed or evaluated for accuracy.  
If a meeting request is denied the sponsor will be given a reason for the denial. Examples of reasons for denial include: 
A meeting package dose not accompany the INTERACT meeting request.

 

The meeting package is substantially deficient, significantly limiting the ability to provide constructive feedback.

The requested feedback is outside the scope of an INTERACT meeting.

 

The stage of development is either premature or too advanced for an INTERACT meeting. CBER will generally inform the sponsor if a different meeting type is more appropriate.

 

A previous meeting for the same purpose had already been held and no substantially new information has become available.

 

The requested feedback is not appropriate for a meeting with CBER.
Published on: Jul 25, 2022