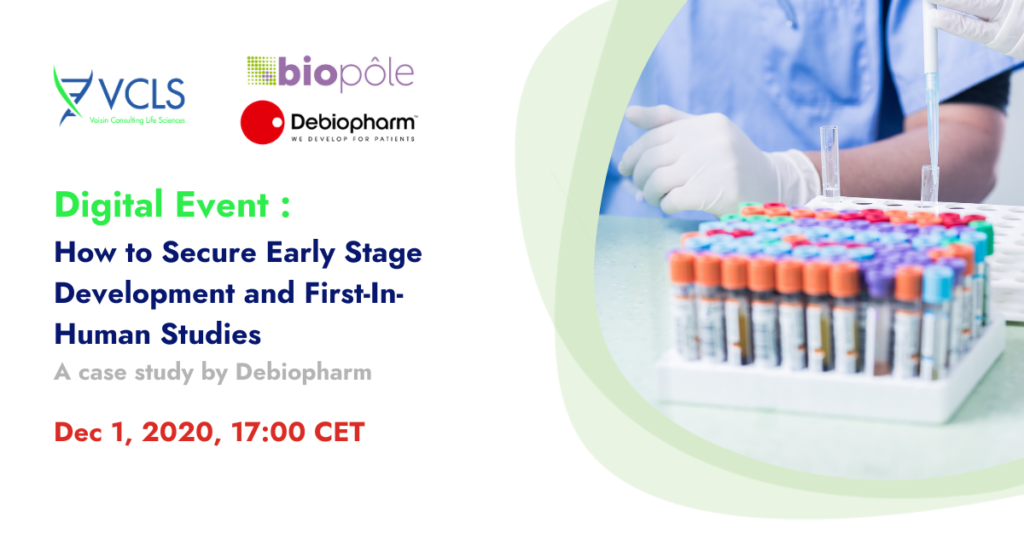 We are glad to co-organize this digital event with Biopôle Lausanne.
Biopôle Lausanne is an innovation-oriented life sciences campus hosting a vibrant community of industry players and research institutes, based in Lausanne at the heart of the "Health Valley", Switzerland's largest life sciences cluster. It hosts 90+ companies & institutions, including multinationals, innovative start-ups & SMEs, together with technology & service providers. It also hosts 25 world-famous research groups from the Lausanne University Hospital (CHUV), University of Lausanne (UNIL) and the Ludwig Institute for Cancer Research. Founded in 2004 by the canton of Vaud, Biopôle SA is a privately held not-for-profit company that is responsible for the management and promotion of the campus.
Agenda:  
5:00 – 5:10 pm        Biopôle presentation (Olivier Philippe)                
5:10 – 5:45 pm         Let's get ready for First-in-Human-Study (by VCLS)               
Developing a medicinal product from very early stage to commercialization is a long journey with multiple challenges … Among the different milestones of clinical development closely monitored by startups, Biotechs and investors, the first administration of the product to a healthy volunteer or a patient is key. Getting to this major achievement requires to provide thorough and extensive data about the product to ensure Regulatory Authorities and Ethics Committee will give clearance to initiate the study. This "go" decision is given only if the quality and safety of the investigational product is demonstrated, which means that the characterization of the active substance, formulation, stability and analytical methods to test the product are well advanced, and preliminary nonclinical tests (in vitro or in animal models) have been conducted. A successful FIH study is a good signal sent to both investors and the medical community, and usually paves the way to smooth phase 2/3 clinical trials down the road.
Coralie and Fréderic P. will present the main challenges typically faced by drug developers during this initial stage of development and will discuss how to mitigate the risks and engage with Regulators to de-risk situations which could ultimately lead to a clinical hold.
5:45 – 6:00 pm         Q&A session             
6:00 – 6:25 pm         A case study by Debiopharm:                   
The Debiopharm team will present a case study, based on Xevinapant, a transformative drug for the treatment of patients with locally advanced head and neck cancer. This product originates from the University of Michigan and was initially developed by the small biotech Ascenta Therapeutics. Xevinapant was evaluated by Debiopharm on several occasions during its preclinical development and was finally in-licensed after clearing the US and China IND. Since then, Xevinapant has been explored in several indications and drug combinations in different regulatory territories.
Rosa and Frédéric L. will share their experience on the in-licensing and development of this drug to highlight multi-dimensional challenges and solutions to guide early development of promising compounds in oncology.
6:25 – 6:45 pm         Q&A session
Register to this webinar now
How to secure early stage development and First-In-Human Studies
Dec 1, 2020
17:00 CET
2 hours

Biopôle Lausanne is an innovation-oriented life sciences campus hosting a vibrant community of industry players and research institutes, based in Lausanne at the heart of the "Health Valley", Switzerland's largest life sciences cluster. We host 90+ companies & institutions, incl. multinationals, innovative start-ups & SMEs, together with technology & service providers. It also hosts 25 world-famous
Agenda:
5:00 – 5:45 pm Let's get ready for First-in-Human-Study (by VCLS)
Developing a medicinal product from very early stage to the commercialization is a long journey with multiple challenges … Among the different milestones of clinical development closely monitored by startups, Biotechs and investors, the first administration of the product to a healthy volunteer or a patient is key. Getting to this major achievement requires to provide thorough and extensive data about the product to ensure Regulatory Authorities and Ethics Committee will give clearance to initiate the study. This "go" decision is given only if the quality and safety of the investigational product is demonstrated, which means that the characterization of the active substance, formulation, stability and analytical methods to test the product are well advanced, and preliminary nonclinical tests (in vitro or in animal models) have been conducted. A successful FIH study is a good signal sent to both investors and the medical community, and usually paves the way to smooth phase 2/3 clinical trials down the road.
Coralie and Fréderic P. will present the main challenges typically faced by drug developers during this initial stage of development and will discuss how to mitigate the risks and engage with Regulators to de-risk situations which could ultimately lead to a clinical hold.
5:45 – 6:00 pm Q&A session
6:00 – 6:45 pm A case study by Debiopharm:
6:45 – 7:00 pm Q&A session