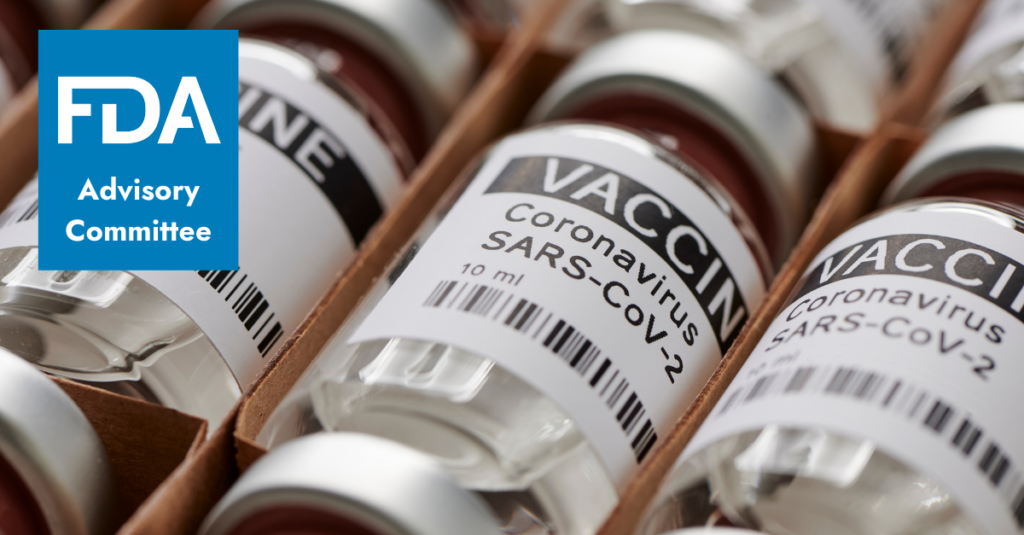 On Oct. 22nd, the Vaccines and Related Biological Products Advisory Committee from FDA held a nine-hour virtual meeting (Advisory Committee Meeting) to discuss the COVID-19 vaccine development programs and next steps.
There was a lot of good information and we have summarized some of the more pertinent points.
Following completion of any Phase III vaccine study, CBER Considers a median of 2 months to be the minimum follow-up duration that could support a favorable benefit/risk determination to issue an emergency use authorization (EUA) for a COVID-19 vaccine; the argument is based on historical vaccine experience, typical immune-mediated adverse events classically take place within the first 6 weeks after dosing.  This means that a full EUA will still be 2 months out when some of the ongoing Phase III trials conclude.
As stated in the June 2020 FDA Guidance; to ensure that a widely deployed COVID-19 vaccine is effective, the primary efficacy endpoint point estimate for a placebo-controlled efficacy trial should be at least 50%,- most companies in Operation Warp Speed stated that they are aiming for minimal 60% effectiveness in their vaccine.  There were a lot of arguments on both sides if 50-60% effectiveness was sufficient.
There was more detailed information shared on the various vaccines in development with Novavax and GSK Sanofi using more traditional recombinant protein + adjuvant;  therapies similar to other approved vaccines but not as fast to manufacture; AstraZeneca and Janssen (Johnson &Johnson) are using an adenovirus vector vaccine- it is rapid to manufacture but this platform has only been used in another (non-COVID) vaccine in Europe; Once inside a cell, viral vectors hack into the same molecular system as SARS-CoV-2 and faithfully produce the spike protein in its three dimensions. This resembles a natural infection, which provokes a robust innate immune response, triggering inflammation and mustering B and T cells
Moderna and BioNTech (Pfizer) are using an even more novel mRNA vaccine approach which allows for rapid manufacturing compared to traditional vaccine manufacturing.  The mRNA vaccines utilize a synthetic strand of mRNA, the minimum genetic instruction that allows human cells to make and express the target viral protein (The spike protein you see depicted in diagrams of coronavirus),

Maya Peters Kostman for the Innovative Genomics Institute.

which then triggers an adaptive immune response against the virus. This approach enables a rapid and scalable response to new viral pathogens as it bypasses the need to work directly with the virus itself.  mRNA vaccines have not been previously tested in large human trials prior to COVID-19.  Importantly, mRNA cannot cause an infection. It also does not enter the cell's nucleus, so the chance of its integration into human DNA is believed to be very low. In addition, the body breaks down mRNA and its lipid carrier within a matter of hours, minimizing, potentially, some concerns about long-term risks.